Offset and Digital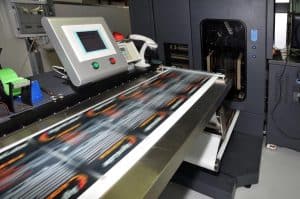 We are proud to offer both offset and digital printing technology in-house at our state-of-the-art printing facility in Irvine. Having two types of printing technology in-house means, no matter your project's scope and deadlines, you receive quality prints on time and at the right price.
The Main Graphics team uses the finest quality printing materials and delivers polished and professional brochures, flyers, pamphlets, and more—every time.
Whether you're looking for trade show marketing materials, stationery, greeting cards, business cards, or giveaways, we use high-quality ink and offer a variety substrates and coatings to give you the finish you need.
Main Graphics operates
G7 certified
printers for reliable color matching, so no matter when or how many times we print your materials, the colors and images we print will be consistent on each of your printing projects.
Digital Printing
Digital printing is the quickest way to print. We use ink-based printing techniques to produce crisp imaging. We run an HP Indigo Press, using true ink. Digital printing also allows us to print variable data, so y
ou may also personalize your printed materials.
Offset Lithographic Printing
Offset printing is printing press technology, transferring your image from a printing plate onto the paper. For longer run projects, offset printing is the most efficient, cost-effective way to produce your printed materials. We can also print with an aqueous coating, to prevent visible fingerprints and scuffing to protect your finished product.
Main Graphics Digital and Offset Printing Formats
If you're not sure which materials or printing process is right for your project, our team is available to consult with you.
Convenient Submissions and Re-orders
Our submission, appro
val and printing process is set up for speed and convenience. Submit your printing files and when using our web2print storefronts so you may approve project proofs online.
Do you find yourself ordering the same items consistently?  Contact us to discuss web2print, our personalized cloud-based portal for your business, where you can come back for re-orders and submit new projects at your convenience. We can even ship the printed materials directly to your office, business partners, or team members out in the field, all with a few clicks of a mouse.
All of our offset and digital printing is done in-house and we have a competitive turnaround time for every project.
Under pressure with deadlines? Give us a call.  We are the ones to meet your tight timeframe.
Personalization and Variable Data Projects
Main Graphics can accommodate printing projects with variable data, so if you need to print names, address, or other personalized information on your letters and postcards, we can make it happen with our digital printing technology.
Design Consultation
Need help choosing a brochure fold? Don't have time to design your own flyer? Our experienced on-site design team will help translate your ideas into designs, helping you get the look you need and meet the most important deadlines.
We've been printing marketing materials for businesses in Southern California for over 30 years. Our team looks forward to delivering your project with top-quality techniques and at reasonable prices.
If you have any questions or have a printing format in mind that you don't see on our website, don't hesitate to reach out at (949) 788-6100 or use our contact form to get in touch.