Santa Ana Printer

Are you searching for a full-service print communications firm in Santa Ana? Located right here in Orange County, we've helped Santa Ana-based businesses of all sizes with both digital and offset printing, web-to-print solutions and more.
We provide everything from traditional corporate printing to promotional materials and corporate apparel, making it easy for you to turn your marketing ideas into reality.
Interested in working with us? Learn more about our services by reading on, or contact us now on (949) 788-6100 to speak to a member of our team.
Main Graphics and Santa Ana

We specialize in working with businesses of all sizes in Santa Ana and the surrounding area, as well as elsewhere in Orange County. As a major tourist destination and an important location for conventions and events, we understand the specific needs of Santa Ana businesses.
We're located a short drive away from Santa Ana, with a convenient location on Barranca Pkwy in Irvine. On average, it takes less than 25 minutes to reach us from the center of Santa Ana by car.
Our Printing and Design Services
We're a full-service print communications firm, which means we offer a complete range of print services for your business. Whether you're a small business or part of a large organization, we can turn your print and marketing ideas into reality.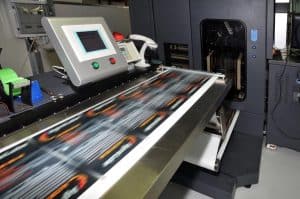 Offset and Digital
Using high-quality printing technology, we can print eye-catching, effective brochures, direct mail materials and other visual advertising that helps your business attract attention and achieve its marketing objectives.
All of the brochures, direct mail pieces and other content we print for you can be customized to include personalization, such as a prospect's name, custom promotional codes and other types of dynamic content.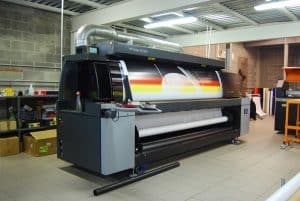 Large Format
Do you need engaging, compelling signage for your retail store or location? We offer a complete range of signage printing services and can prepare anything from large retail signs to compact and effective in-store signage for your retail stores, outlets or other locations.
We also offer a full range of retractable banners, over-sized posters and floor graphics designed for use in conventions and other promotional environments.
We work with Santa Ana-based businesses of all sizes and can print anything from large graphics to small, eye-catching signs designed to make the most of the limited space. Our signage is built to last, meaning you can enjoy years of reliable, consistent results from your order.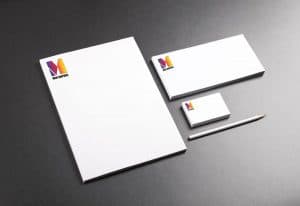 1 & 2 Color Printing
Do you need digital marketing assets for your business? From proposal templates to corporate emails, we can design and manage a wide range of high-quality digital marketing assets to help your business grow and prosper.
We also offer digital asset management services, allowing you to easily access the templates and design assets you need when you need them. Our centralized system is designed for both corporations and smaller, local businesses in mind.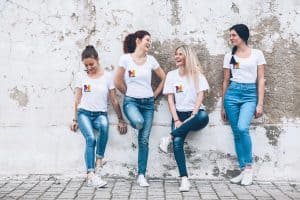 Clothing and Apparel
A great piece of merchandise can be a powerful marketing asset for your company, helping you to grow your brand and expand your reach. We offer a full range of apparel printing services for businesses of all sizes, letting you easily add your brand to t-shirts, polos and other apparel.
All of our high-quality clothing is designed to last, helping you maximize your brand exposure while providing a great value-add for prospects, clients, customers and company reps.
Contact Us Now
From small, one-off printing jobs to large-scale marketing projects, we work with businesses of all sizes on a wide variety of different orders. No matter what your specific needs may be, we're always available to provide expert advice, assistance, and recommendations.
For more information on our printing services or to ask for advice from one of our corporate print experts, please contact us now on (949) 788-6100.
Click here to learn more about Main Graphics!