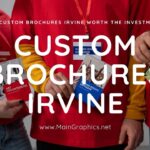 Are Custom Brochures Irvine worth the Investment?
A brochure is much more than just a paper document. It's the key to advertising your company and informing prospective customers about what you can offer them when they visit your website or shop at one of their stores! A logo, contact information, prices for products – all these are integral in making an impact that will make potential customers want to do business with you. Custom brochures in Irvine are distributed in many different ways, from being handed out personally to appearing as newspaper inserts. But one of the most common is when they're placed on brochure racks at high traffic locations such as tourist precincts. For custom brochures that only include summary information and are promotional-in-character, folding them into their own little pocket helps keep things tidy.
Importance
Custom brochures are the best way to send a message about your company's professionalism. It is really worth investing in them, their benefits include:
Custom Brochures are Pocket-Friendly
Custom brochures are low-cost marketing plans that can be designed to suit any budget. Plus, most professional print shops will work with you in designing and producing sleek custom brochures at your price point. They're also cheaper the more you buy them! For many companies who use mail advertising or participate in trade shows, bulk buying is popular because they usually come equipped with details about the business-like contact information, so they don't just need one for their businesses but instead multiple copies–just perfect if sold in larger quantities which creates savings on printing costs as well.
Custom Brochures are Easy to Distribute
You should strategically distribute your custom brochures in multiple locations. This is a much more effective and efficient way to reach your audience, so you can negotiate with mall management teams or other businesses related to the same industry as yours about distributing them on large scales for free. You could also contact advertising companies who would be happy to help promote this aspect of business for you! If that doesn't work out then there's always placing advertisements inside promotional giveaways sent out by mail- just make sure not too many people see it before they get their hands on one.
Custom brochures Help Reach Targeted Audience
A custom brochure in Irvine is an effective way to reach customers, as long they have your correct address. But you can also specifically target online prospects with a little creativity and ingenuity. The problem mentioned earlier about ads going unnoticed or largely ignored still exists though, but there's something special about leaving pamphlets on doorsteps that guarantees it will not get overlooked – take-out menus! For example, everyone knows how handy those are when we're looking for what restaurant to order from without the hassle of cooking at home these days; why wouldn't our targets be just as happy? A marketing brochure ensures to reach your intended audience if given their contact information correctly. Well now imagine being able to do this in addition through digital means called advertising too.
Custom Brochures Build Trust
You want to be able to build trust with your potential clients so that they know the kind of company you are. Clients will read about how much care and commitment we have for them, which builds their confidence in us as a trusted business partner! Your brochure can also show off all the credentials and experience you've got under your belt so no one has any doubts when it comes time to do business together.
Custom Brochures Help Personalize Your Business
Professional speakers often target one person in a large audience. This approach helps the speaker communicate on a personal level, which is usually more effective than speaking to an empty room of people who are strangers. Similarly, your brochure can use the same technique and tell them how you're different from other companies they may not have heard about before by targeting potential clients with real-life stories that show why their product or service will make all those problems go away. Additionally, people who are on a tight schedule can appreciate the convenience of brochures. That way they don't have to try and find time for reading online at their own leisure during work hours. Plus, printed matter has more appeal because it is personal- tailored specifically for that person's needs.
How to Design a Perfect Brochure?
An impressive brochure does not happen overnight. They take time, patience, and creativity to get right because there are many aspects that need consideration such as paper stocks, print finishes, and the design's overall effect on your audience for it to stand out from other promotional materials. The design of the brochure holds immense importance. Professionally designed custom brochures can help you attract more audiences. It can help you generate more leads. While designing a perfect custom brochure in Irvine, one should take care of the following aspects:
Who is the targeted audience?
What is the purpose of your brochure?
What format can be the best suitable?
What color scheme should be applied?
What content should be used?
You should check the above-mentioned points for a perfect design of a custom brochure.
Where to Print Custom brochures Irvine?
Keeping in view the importance and effectiveness of your custom brochures, you should get them designed and printed by some professional designers. Main Graphics offers perfects custom brochures in Irvine. We are the brochure makers that are the perfect one-stop-shop for all your business needs. Whether you need restaurant or salon brochures, we have professional templates that can be customized to suit any type of business and customers' requirements. At Sustainability Press, we're a team of dedicated professionals who are passionate about delivering the best work possible. We offer competitive pricing and have experience in all types of print collateral products. With our drag-and-drop design tool, you don't even need a designer degree! Just go ahead with Main Graphics today and find out how easy it really could be to create an eye-catching brochure without wasting time on designing skills or software.